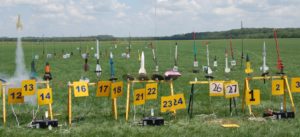 Often as a LCO I will get a flight card filled out with the rocket name given as 'none' or 'blue rocket' or some such empty unimaginative title. This should not be. There are many incredible unclaimed names for rockets that evoke adventure and excitement so that these blanks need never again be left craving a designation. Even the rocket beginner need only look to an Independence Day Celebration catalog or the aisle of heavy metal rock albums for inspiration. As a service to name the unnamed rockets we offer a sample listing here. Keep this list on the LCO table to complete those flight cards with style.
Lucifer's Hammer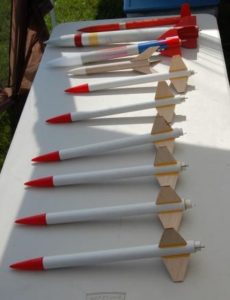 Torch of Freedom
Ninja Steel
Gravity Wins
Einstein's Enigma
Zombie Apocalypse
Screaming Memaw
Jaw Dropper
Raging Ghoul
Gator Hunter
Moonshine Mama
Tesseracter
Red Devil Skull
Matrix of Leadership
Allspark
Star Harvester
Sword of Judgement
Merlin's Staff
Tower of Saruman
Death From Above
Justified By Works
Tesla Jolt
Oblivion Delirium
Medusa's Rage
Carbon Contaminator
Man-Bear-Pig
Scalded Dog
Blistering Ballistic
Newton's Nightmare
Allegiance of Doom
Watch This Bubba
General Tso's Revolt
Blunt Force Trauma
Night Assassin
Brink of Disaster
Can of Whiplash
Demon Dancer
Hold My Beer
This page allows comments, so add your own suggestions.