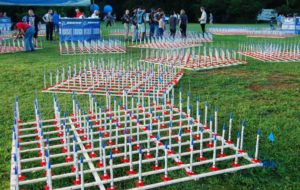 Fifty years to the minute that Apollo 11 lifted off the US Space and Rocket Center set a Guinness record for mass launching the most model rockets. Of the 5000 Pathfinder models loaded on 1/2A62 engines, 78 failed to launch and 44 failed to reach the required 100 foot altitude, but still beat the Teylingen College in the Netherlands record of 4,231 model rockets launched in summer 2018.
The event was under the direction of the USSARC assisted by local aerospace sponsors and employee volunteers. Aside from some local members helping on their own to load the racks and a few who built kits, there was no connection to NAR. HARA had approached USSARC last year but they already wanted to do this Guinness record attempt rather than a scale Saturn V model launch or a Land the Eagle type event.
The weather Tuesday morning was great but getting hot as the Sun rose on fifty pallets each of a hundred rockets. Each nozzle sat on an e-match pushed through a hole in a wooden slat and as long as it stayed aligned it was good to go. The loading was completed on time with no technical glitches as the large digital countdown clock rolled along. A thousand space campers, a thousand more spectators and 175 volunteers chanted the seconds and watched as the wall of smoke rose in the flight field. A large cloud instantly formed in the sky as 4922 ejection charges fired to deploy mylar streamers. Then it rained rockets. Fortunately all pieces landed in the prescribed area well away from any spectators. What earlier had been an immaculately orderly range was now littered like a Mardi Gras parade route with landed rockets and, oh yes, all that wadding.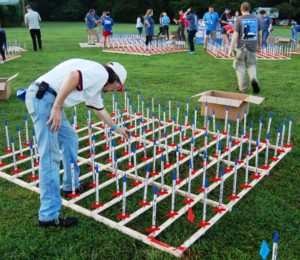 Wearing his NAR cap Rus Hardy of Birmingham corrects an alignment.
HARA Prefect Art Wooding and VP Allen Owen rack them up.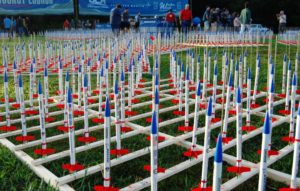 "as my first act with this new authority, I will create a grand rocket clone army of the Republic."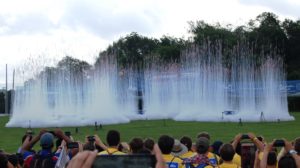 The launch had the collective impulse of an 'L' motor.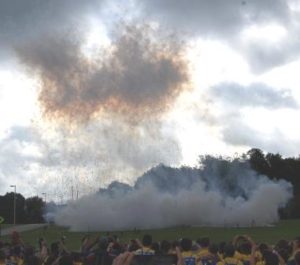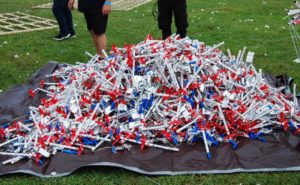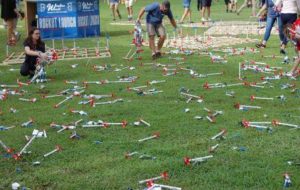 Meanwhile later that day Hope Rising's TARC team flew models at Pegasus East to commemorate Apollo 11. For another report on launches that day see Bill's blog at http://billsrockets.blogspot.com/2019/07/the-celebration-begins.htmlreoprt