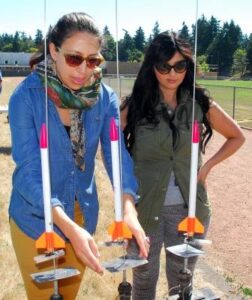 Outreach and education are two key components of HARA's mission.  We recognize that cooperation with local K-12 educators and youth group leaders is one of the most efficient and effective means of accomplishing that mission.  For that reason, HARA has a rich history of working with teachers and youth leaders to help prepare activities, lessons, presentations, and launch demonstrations.  If you are an educator or youth leader and would like more information, please contact us.
Two great, additional resources are the National Association of Rocketry's (NAR) Educator Resources page and the Estes Educators website.  When you click the following links, you will be taken to an external site that will open in a new window.
Presentations on Rocketry
1. Rocketry Basics (a little dated, but still good). Here is the Powerpoint version and here is the PDF.
Educational Projects for Home and the Classroom
1. Stomp Rockets
Stomp rockets are a great way to introduce the science of rocketry through hands-on learning. Paper rockets are very easy to make, and use "virtually free" materials. The rockets themselves are very inexpensive, and there are lots of options for their redesign. After you build one or two, you may want to start designing your own stomp rockets. We've drawn up a stomp rocket plan for you below. The first one has our rocket clubs logos on it, but you can put your own logos on the second one.
NASA has some great plans available for a low cost launcher. We have posted the plans here for you.