The below maps will help you get to the new fields – we recommend you approach via Hwy 72 to avoid some very narrow roads that the map services may send you down (extremely difficult for large vehicles).
Both fields may be accessed by turning on to the intersection of County Road 5 and Hwy 72. This map will provide directions to the Hwy 72 turnoff from your location (Click on the marker):
After turning onto County Road 5, you will take the first left to get to the entrance to the Jackson 5 field. If we are launching at Butler Mill, please continue south on County Road 5 until it intersects with Butler Mill Road. Turn left on Butler Mill and continue until you pass the cemetery. The entrance to the Butler Mill field is the next left.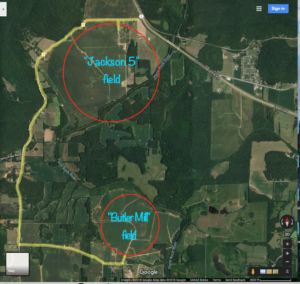 For those of you who wish to "rough it" on your own, the coordinates of the Jackson 5 field entrance are:
34.628897, -86.318482
And those for the Butler Mill entrance are:
34.585011, -86.317555
Please remember our warning about the narrow roads!