Homemade CNC Mills, Google Glass, & Octo-rockets
Wondering what these things have in common? Then you probably missed Thursday night's HARA meeting.  First off, attendance was fantastic with nearly 30 people showing up. Thank you to all of our guest.  We hope that you felt at home. HARA puts a lot of effort into providing engaging and informative meeting presenters to help you develop your skill and knowledge of rocketry.  So what do these topics have in common?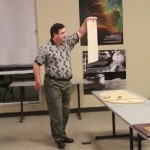 February's meeting was 'Tech-Talker Night' when club members share their projects with the club.  We kicked off the meeting with Jeff Garland's homemade CNC mill. CNC means 'computer numerical control'.  A CNC mill is a tool typically used in industry to manufacture complex 2D and 3D parts.  Jeff built one at home for under $1300, and he is pumping out impressive parts for rockets, airplanes, and boats. You could see the gears turning in everyone's mind.  If you had a CNC mill at home what would you build?  Jeff also builds vintage arcade game consoles.
HARA will be hosting an open house night on March 6th starting at 7PM.  This is an opportunity for HARA to showcase what we do best – rockets.  Please spread the word to friends and colleagues, and come participate.  We will provide refreshments.  Contact me @ president@hararocketry.org if you have some rocket projects you want to share, and I will get you a table.  I will show up at ERC around 6PM to set up.  Our TARC teams are also invited to showcase their work.  I would like some help putting together a video or picture show.
Once upon a time, HARA offered a student launch program known a Sub-Orbital Academic Research (SOAR). The program was a precursor to the very successful NASA Student Launch Initiative program which suffered at the hands of the relentless government sequester.  But, like the Phoenix born again from the ashes, HARA is reviving the SOAR program to again provide this valuable educational possibility.  HARA Officer Duane Mayer presented the preliminary program plan.  The club and all of our visitors were excited about SOAR.  The program plan will be finalized by the next HARA meeting. More information is on the HARA website under activities.  I encourage you support for the SOAR program.  We will need mentors.
Following the SOAR presentation, I revealed the preliminary design of the club's project rocket.  The rocket can carry 10 student payloads and deploy 6 of them from sideways launch tubes.  At 120 lbs pad weight, it will be the largest rocket that any of us in HARA have built.  I have donated a CTI N-2501 motor for the maiden flight on October 25.  The SOAR rocket team meets 30 minutes before the regular HARA meeting.  You are welcome to come and go as you please.  Group build sessions will usually be on the weeks and will be announced a week or so in advance.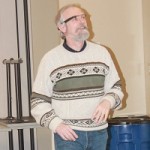 Club member Art 'Bud' Woodling delivered a very interesting tech-talk about his level 3 rocket project and the assistive technologies developments he has in mind that would revolutionize how rocketeers could keep track of their rockets in flight.  'Baby Girl' as she is named is an impressive 7.5" dia. scratch build project, and Art's skill as a rocket builder is evident in every inch of her carbon black fiberglass structure. But, the most interesting part of Art's talk was his plans for tracking.  He is developing an app for his Google Glass, a personal heads up display (HUD) that paired with GPS & a wearable magnetic compass and blue tooth module, would tell him exactly where to look to find his Baby Girl as pushes 8000 feet.  Many of us tech heads eagerly await Art's success and stand by with checkbooks drawn.
Jesse Jones, our webmaster, unveiled the new HARA website.  The sites content and functionality is far superior to our old page.  Jesse has clearly put a lot of work into it and we thank you.  The Paypal is working so don't forget to renew your memberships.   Our 2014 launch schedule is posted on the website.  The web team will continue adding features and resources in the coming months. If you have not seen the new website, go take a look.  If you are interested in contributing please send an email to webmaster@hararocketry.org.
A newcomer Brandon King and his daughter came to the HARA meeting after spending a day at the USSRC.  I spoke with Brandon a few times in the weeks leading up to the meeting and he was eager to share his rocket project 'Black Widow', a rotorcraft style rocket that deploys eight rotors on booms for recovery.  Now Brandon has obviously put some time into this project.  He and his daughter demonstrated the boom deployment hardware and showed off a subscale rocket he build for testing before building the 5" full scale.  Brandon's YouTube video will tell you more. Brandon and his daughter joined HARA the next day and we welcome you to the club. Thank you for coming to talk with us.
The 2014 membership year starts March 1st.  Individual memberships are $20, & family memberships are $30.  Come to our open house night on March 6th beginning at 7PM.  MC2 will host a launch at Manchester on March 8th, and HARA will host a local launch at Bragg Farms on March 15th.  Our next regular club meeting is April 3rd @ 7:30PM.  Last year was a definitive one for HARA, and 2014 is poised to be even bigger. I am glad to be able to lead this club in this direction, but it cannot be done alone.  I thank everyone who has already stepped forward to lead projects.  I ask that others please find a way to support one or more of these projects.  It is an opportunity to be a part of something special that could profoundly influence the career & life paths of those that have the opportunity to experience it with us.  Thank you.