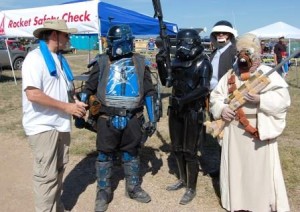 One of the best NARAM in recent years was well attended with many rockets (and no raccoons) launched from 'A to O' in motor size. The weekend sport launch included the student and intern flights mentioned in the post below while the rest of the week was competition and evening presentations. For the fifty-sixth year rocketeers convened to renew acquaintances, hear industry announcements, learn new skills and fly more rockets. This year a special event selected a dozen models to be displayed in the new Model Rocketry Exhibit at the Seattle Museum of Flight. There was also a Big Bertha decorating contest judged by Vern Estes himself. The regular auction, demos, and forums added to the fun.
Extensive photo galleries of flights and activities are at http://naramlive.com/naramlive-2014/
Victor Murphy of Huntsville watches the many flights with a large crowd of spectators.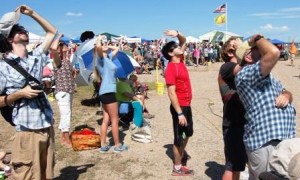 The pad arrangement is familiar to a lot of ranges to accommodate all size rockets.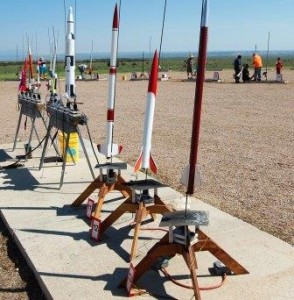 The best scale modelers in the country display their craftsmanship in static judging. A great joke entry was an empty stand entitled "Wonder Woman's invisible plane."
Former NAR president Mark Bundick photobombs current president Ted Cochran as he sets the altimeter for his M flight.
Victor Murphy seals the Falcon Rocketeers' payload into the N powered 2 stage Future's carrier bay.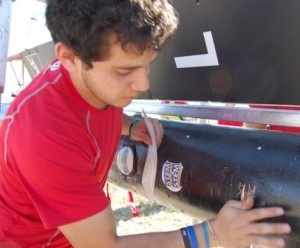 Some of the NAR Board of Trustees got to visit ground zero for model rocketry in Penrose, CO.