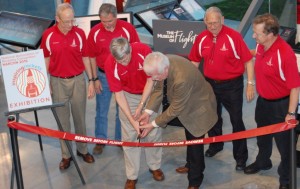 The new exhibit of model rocketry at the Museum of Flight in Seattle featuring the Estes and Stine collection was dedicated in the Space Gallery February 21, 2015, by the NAR Board of Trustees. The 'Remove Before Flight' ribbon was cut by NAR President Ted Cochran and Dan Hagedorn, Senior Curator and Director of Collections. Also present in the photo are Trip Barber, Bill Stine, Vern Estes and Pat Fitzpatrick.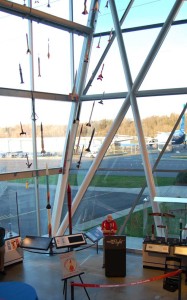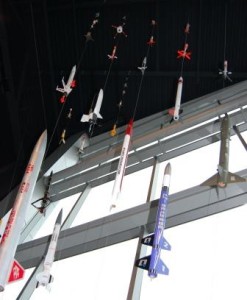 This is the first permanent exhibit exclusively for model rocketry in an American museum. Among the historical artifacts that include a model rocket taken into space aboard the shuttle by Jay Apt are some models that won awards in national and international contests such as the rocket that in 2013 won TARC and the world championship flown by the Georgetown Texas 4-H group.
The unveiling of this exhibit came from several years of work by NAR volunteers coordinating the cataloging and selection of artifacts from Vern and Harry's storage. The Estes and Stine families are willing to give their rockets a new home because the MOF is treating these models as historic pieces equal to the other aerospace items in their custody. These rockets are still claiming fame in a glass case between a Space Shuttle trainer and a Hubble space telescope model.